This year's major projects are wrapped up in shrinkwrap and ready for the shelves, so here's congratulations to Jediah

and

OSB on their new CDs, both released by the beginning of December.

_____________________________________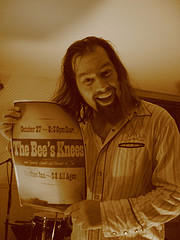 Joe Giotta
I also wish the best of luck to a good friend, Joe Giotta and his wife Meighan, on their recent marriage and move to Nashville. Joe is a very talented drummer who I have had the pleasure to record three projects with (with
Mossberg
in 2002 and two CDs with
The Bee's Knees
). His dynamic drumming will be missed (not to mention his hilarious Mike Tyson impression!) Speaking of the Bee's Knees, I'm looking forward to December to get to the final mixing for their current CD. Let's hope that Joe's departure isn't too much of a speedbump for them.
Other recent projects include mixing
Billy Blue
's new CD,
Blues in My Room
, which will be released in December as well.. Rock band
Gutta
has a new project in line for mixdown as well. The tracking sounded fantastic and full of the live energy and excitement that they have on stage, which if you're a fan of the band, I'm sure you'll appreciate.
Longtime friend and client,
Denis Coughlin
has started a new CD, which is moving along quickly, and looks like it will be done by early 2007 as well. I started working with a talented newcomer to the local scene named
Zack Borer,
who is blowing my mind with some fantastic songs and some incredible one-take vocal tracks!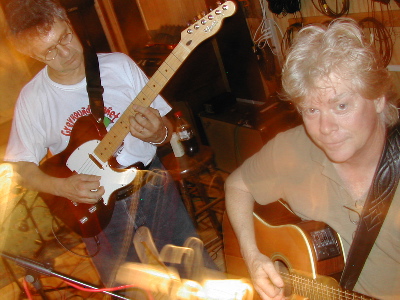 Guitarist Joe D'Angelo and Denis Coughlin

Local band,
Cra
ig
has retooled their sound quite a bit, with the addition of singer/guitarist
Sam James
. They've been tracking a new project that will surprise the hell out of people who think they know what to expect from these guys!
Just when
Seana Carmody
's new CD looks like it's ready for mastering, she calls me up saying that she has "one more song" to add to the list. If these weren't some of my favorite songs of the year, I might be upset, but this is going to be a really beautiful CD. Some of the tunes are on her
Myspace
page now.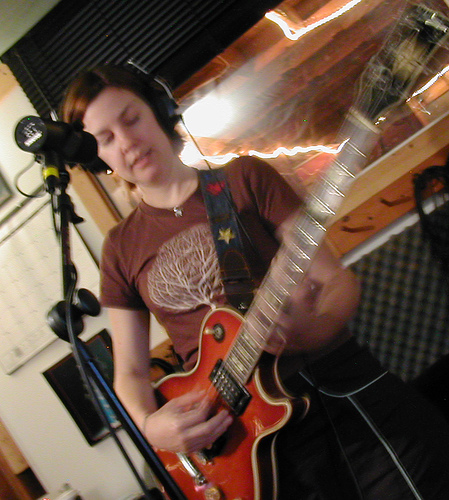 Seana and "Gilbert" the Les Paul copy.
Some friends of Seana's, Boston's indie rockers/sonic explorers,
Broken River Prophet
(featuring former members of the band Lockgroove) have started tracking a new CD. Lots of lush textures of distorted guitars, vintage keyboards, steel guitar, mandolin and who knows what else.

Another new development that I've been working on over the past year is that I've finally put together a secondary recording rig that's all racked up and ready to roll. That means that I can do location recording when we really need to get the sound of a monster truck revving up to start your next CD. I am also able to set up and record projects live at the venue or else in the rehearsal space, living room, church hall, Chippewa teepee, etc. This will be handy for preproduction sessions, not to mention those "Live from the Hess Station in Kelley Square" podcast series I've been meaning to do. That'll be another resolution for 2007 that I'll put on the list, right next to getting new business cards made.

That's about all for tonight. I've got to get up early to set up to record Jediah live at Mill Street Brews tomorrow.